本次澳洲代写是业务流程建模需求分析的一个assignment
Introduction
As part of Assignment 3 you are required to undertake a requirements analysis and business
process modelling tasks for a business information systems project of E-Scooter Hire
company (the same case study in your assignment 2). You are also asked to create a video
presentation for your report in which you will pitch your recommendations to the
organisation.
Internationally, we are also seeing public E-scooter hire/share schemes expand and become
viable in their local contexts such as in Washington DC and New York. A survey conducted in
2019 by RACV shows that Melbournians and visitors to Melbourne would like to use E-
scooter to travel in a more environmentally friendly way to reach public transport and work,
and to have more freedom and fun.
The survey respondents reported that using an E-scooter to get around had many benefits
including lower costs and more reliable form of transport that is better for the environment.
To support the use of environmentally friendly public transport and the demand of E-scooter
use, a new scheme for E-scooters is on trial in several local councils around the
Metropolitan area.
Case study
Melbourne's public electric Scooter (E-scooter) scheme is a new and carbon footprint
friendly way to explore the city, with the first 15 minutes being free of charge. There are over
120 docking stations and 1000 E-scooters available for hire. Following on from the initial 15
minutes free of charge, pricing starts at $2 AUD for the next 1 hour. After the first 1 hour and
15 minutes, it costs an extra $2 AUD for each additional 15 minutes. E-scooters can be hired
using a bank card at the docking station, or using the official E-scooter-Hire app. E-scooter-
Hire app is widely used in the US and other developed countries and it has been seen as one
of the most effective business solutions for managing E-scooters Hire process. They are
available for hire 24/7, every day of the year. The scheme aims at supporting users to travel
around the city quickly and easily. See an example of E-scooters Hire app here.
E-scooters are available for hire at the docking-station terminal with a bank card, contactless
payment card or using the official E-scooter-Hire app – just touch the screen and follow the
instructions to begin. Getting started for the user is easy: simply hire an E-scooter, ride it, and
then return it to any of docking stations across the city once the user is finished using it, so
that no additional charges apply. E-scooters can be hired as many times as the user wants it
within the E-scooter access period the user has purchased.
Charges are as follows:
– Hire-an-E-scooter access fees: $2 AUD for 1 hour, $80 AUD annually (only
available to registered Melbourne E-scooter members)
– Hire-an-E-scooter additional fees: $2 AUD for every additional 15 minutes (or
partial ¼ hour) after the first hour and 15 minutes.
– Other charges: A user may be charged up to $300 AUD if the E-scooter is not
returned or is returned late or damaged.
The app, available on iPhones and on Android, is the only app to send E-scooter-release
codes straight to user's phone. The user downloads the app and registers for pay-as-you-go.
Use the app to 'hire now' from a nearby docking station and get the release code. The user
then taps the code into the docking point and can then enjoy the ride.
E-scooter user wanted to the app enable them to:
– see up-to-the-minute information about which docking stations have E-scooters and spaces
available.
– plan a journey for them with an easy-to-follow map.
– receive notifications summarising the cost at the end of their journey.
– see their recent journeys and charges.
Use the information from the above case study E-scooter Hire Project to make appropriate
assumptions as needed about additional details. Document your assumptions.
Assignment Tasks
In this assignment, you are required to undertake the following tasks:
1. Identify and describe TWO techniques to gather and elicit business requirements that
you find most useful for requirements elicitation for the E-Scooter-Hire app
development. For each technique, explain and justify your selection and apply them to
gather and elicit users' requirements for the system E-Scooter-Hire app project.
2. Develop a Business Process Modelling that illustrates the E-Scooter-Hire Process.
3. Make assumptions to support your Business Process Model.
4. Create a 3-minute video presentation for your report in which you will pitch your
business solution that is recommendations to developing and implementing the E-
Scooter-Hire app. In your presentation summarise the benefits and potential issues of
developing and implementing e-Scooter-Hire in Melbourne. Please note that your
target audience is Victorian government.
Report Guidelines
1. The assignment report should use the provided Assignment 3 report submission
template.
2. The assignment report should be written in Microsoft Word (font size 12).
3. Submit your report and the video recording to the Assignment 3 Dropbox on
CloudDeakin.
4. Appropriately reference relevant websites, journals, or conference papers
cited in your research using the Harvard style (if needed).
---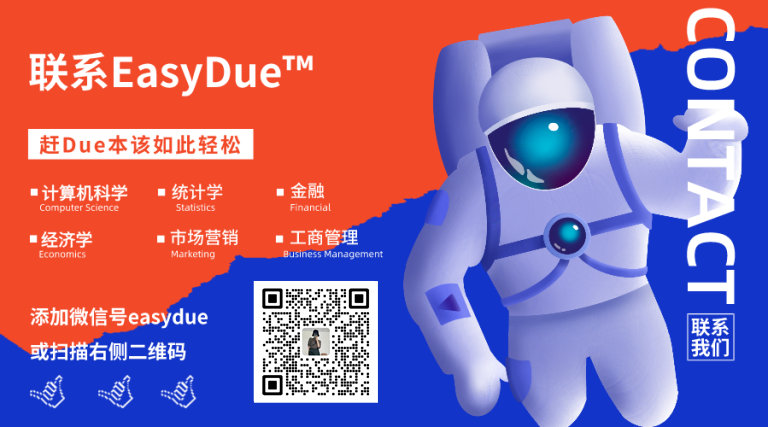 EasyDue™ 支持PayPal, AliPay, WechatPay, Taobao等各种付款方式!
E-mail: easydue@outlook.com  微信:easydue
---
EasyDue™是一个服务全球中国留学生的专业代写公司
专注提供稳定可靠的北美、澳洲、英国代写服务
专注提供CS、统计、金融、经济、数学等覆盖100+专业的作业代写服务