这个作业是选择一个公司进行市场营销战略分析
Strategic Management (BS3543)
General Guidelines:
Carry out a Strategic Management analysis, diagnosis and evaluation of a firm of your choice Any firm can be selected for analysis, excluding cases which have been analysed in class, as listed in the published lecture plan. The cases listed in the lecture plan have been covered and analysed in detail and should not be selected for the assignment.
It is important to select a firm for which adequate secondary data (both quantitative and qualitative) can be easily sourced. This includes data for primary competitors of the firm in question. Lastly, a geographical focus should be specified for your analysis (e.g. UK, US, EU). You are advised to carefully check for the above before finalising your firm selection.
Your report should draw upon a wide range of sources from the core textbook, the company's website and other relevant websites, textbooks, academic journal articles and business databases. The data on the firm must be collected from secondary data sources ONLY
The assignment should be constructed with a primary emphasis on analysis, diagnosis and insight formulation. Also recommended: Targeted referencing that supports analysis and diagnosis.
Word count limit of 2000 with a +/- 10% allowance. Please ensure you do not exceed this allowance. Figures and Tables do not contribute to the limit. Supporting appendices are allowed and they do not contribute to the word limit. Key figures, tables and analysis should be included in the main body of the report.
Use of figures, tables, graphs is recommended (as part of the main body of your report).
Theory-based critical analysis combined with data-focused analysis / diagnosis is recommended.
Selecting key areas of analysis / prioritisation is strongly recommended. This will depend on the firm selected.
Question – Answer based structure is recommended. A short and specific introduction to the firm is needed and can be part of Q1.
Potential (not exclusive) thematic sources for each assignment question
Questions can focus on a range of thematic areas:
1. Appraise the firm's strategy performance and diagnose any sources and causes of under / over performance. Analysis and diagnosis should include trends over time and benchmarks against main competitors.
Potential Thematic Focus:
– Introduction and Strategy Concepts, wk1
– Goals, Value and Performance, wk2
2. Analyse the firm's external environment and evaluate its ability to compete
Potential Thematic Focus:
– Industry and Competitive Environment, wk3
– Competitive Advantage, wk7
– Industry Evolution and Strategic Change, wk8
– Corporate Level Strategy wk9
3. Analyse and evaluate the firm's internal environment
Potential Thematic Focus:
– Resources and Capabilities, wk4
– Competitive Advantage, wk7
– Corporate Level Strategy, wk9
– Strategy Implemenation: Organization Structure , Governance and Management Systems, wk10
4. Evaluate the firm's strategic fit and formulate recommendations for success
Thematic Focus:
– Synthesis and critique based on analysis outcomes / conclusions from Q1-3
Marking breakdown:
1. 25%
2. 25%
3. 25%
4. 25%
---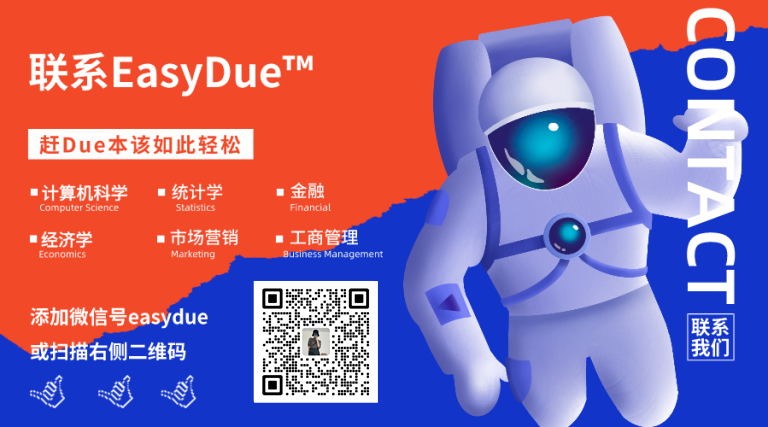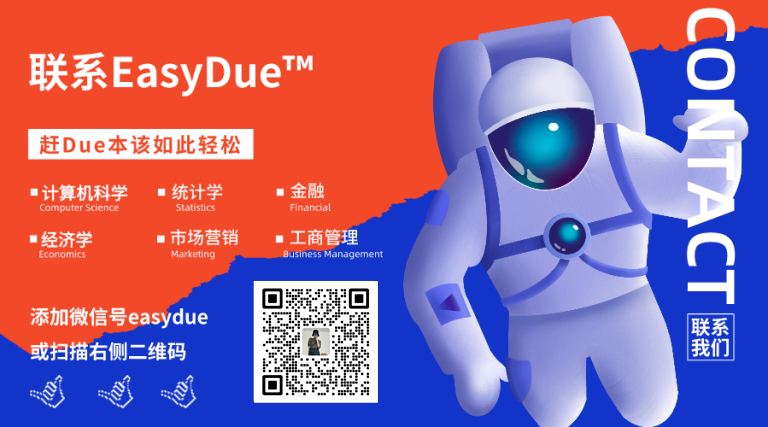 EasyDue™ 支持PayPal, AliPay, WechatPay, Taobao等各种付款方式!
E-mail: easydue@outlook.com  微信:easydue
---
EasyDue™是一个服务全球中国留学生的专业代写公司
专注提供稳定可靠的北美、澳洲、英国代写服务
专注提供CS、统计、金融、经济、数学等覆盖100+专业的作业代写服务