本次美国代写是项目计划管理和控制的一个报告assignment
Q1. During the module you were a member of a virtual project team on the project management exercise.  Write a report critically evaluating the performance of your team on that exercise.  Your report should concentrate on how the team functioned rather than the technical aspects of the project management exercise itself.  In particular you should include comments on:
a) The team's Belbin profiles. (30%)
b) The team lifecycle. (20%)
c) Decision making procedures. (15%)
d) Conflict within the team. (15%)
Critically assess the effectiveness of your team in the virtual environment and suggest how this might have been improved. (20%)
Q2. "Systematic identification, analysis and assessment of risk and dealing with the results contributes significantly to the success of projects". (Cooper et al 2005)
Writing your Post-Module Assignment (PMA): specific additional advice for WMG's Postgraduate Taught Students
As a postgraduate level student in WMG you may have some concerns about your ability to write at the high standard required. This short guide is intended to provide general guidance and advice. It is important that if you have any questions, you discuss them with your module tutor. Remember, in writing your PMA you need to meet the expectations of the reader and university.
A good PMA generally requires you to answer the question and to include…

1. A title, with your student number, module, lecturer's name and any other documentation required by the university.

2. A contents page and if appropriate, an abstract.

3. An introduction which acts as a 'map' to the rest of the document, describing the aim or purpose of the work and explaining how this aim is achieved. At this point it is usually helpful to paraphrase your conclusion.

4. Evidence of an appropriate level of background reading of relevant texts.

5. Evidence of systematic and clear thinking, indicative of good planning and organisation.

6. Writing which makes sense, is clearly and carefully presented (proof-read and grammar checked).

7. A critical style of writing which compares and contrasts the main theories, concepts and arguments with conclusions that are based in evidence presented.

8. High levels of accurate academic referencing.

9. A logical and well-defined structure with headings and subheadings.

10. Clearly labelled and well-presented diagrams and other graphics that are discussed in the text.

11. Adherence to usual academic standards including length and a timely submission.

12. A reference section in which every source that is cited in the text is listed.
---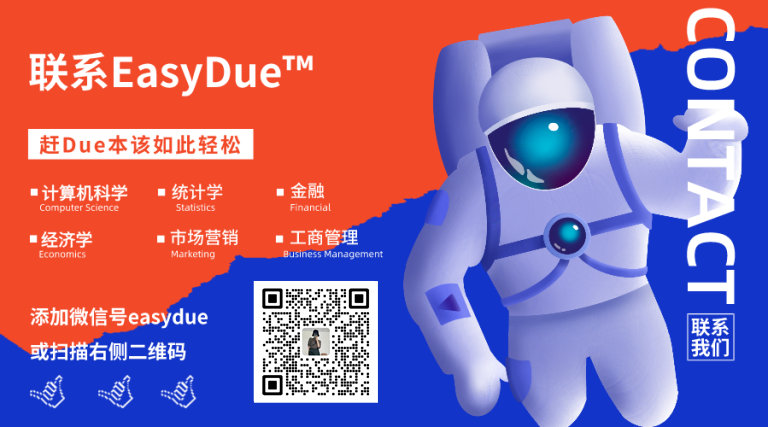 EasyDue™ 支持PayPal, AliPay, WechatPay, Taobao等各种付款方式!
E-mail: easydue@outlook.com  微信:easydue
---
EasyDue™是一个服务全球中国留学生的专业代写公司
专注提供稳定可靠的北美、澳洲、英国代写服务
专注提供CS、统计、金融、经济、数学等覆盖100+专业的作业代写服务