这是一篇来自澳洲的关于科学思考相关的Take-Home Exam作业代写,以下是具体作业内容:
Over the past four years there has been a high profile and ongoing legal case involving the medical testing company Theranos and its founder Elizabeth Holmes that has been reported widely in the international media. It serves as a sober lesson to both investors and inventors alike as they try to capitalise in the often-fraught financial world of science-based tech start-ups and venture capital.
View the following five articles and answer the questions below. (Do not exceed 1000 words in total!)
Theranos scandal: Who is Elizabeth Holmes and why was she on trial?
BBC News (Daniel Thomas) 4th January 2022
https://www.bbc.com/news/business-58336998
The rise and fall of Elizbeth Holmes
BBC News Video 4th January 2022
https://www.bbc.com/news/av/business-59863739
Elizabeth Holmes verdict: researchers share lessons for science
Nature News (Emily Waltz) 4th January 2022
https://www.nature.com/articles/d41586-022-00006-9
Judge agrees to delay Elizabeth Holmes' sentencing over prosecutor misconduct concerns
NBC News (Rob Wilde) 4th October 2022
https://www.nbcnews.com/business/business-news/judge-elizabeth-holmes-case-agrees-delay-sentencing-prosecutor-miscond-rcna50519
Theranos phenomenon: promises and fallacies
Clinical Chemistry and Laboratory Medicine (Eleftherios P. Diamandis) 9th May 2015
https://www.degruyter.com/document/doi/10.1515/cclm-2015-0356/html
This is a small selection of the articles that were published on the issue, and a quick browser search will lead you to others if you want to read further on the matter.Question 1. (500 words max.)
Give a short summary of what this issue was about, and what are the court outcomes to date.
Question 2 (500 words max.).
Either
(i) If you were a potential investor in a tech start-up that relied on scientific developments as the basis for its products/services, what questions would you be asking to ensure your investment at least had a solid scientific basis?
Or
(ii) If you were an ethical inventor wanting to commercialize your research findings by creating a tech start-up, what steps would you follow to give confidence to potential investors and avoid falling into the situation of Elizabeth Holmes?
You are free to read more widely on the matter, although it is not required; you do not need to cite any references.
Submit your completed paper to the SCIE20001 LMS site via the link on the Assessment Page. It must be uploaded before the deadline, at which time the upload link will close.
---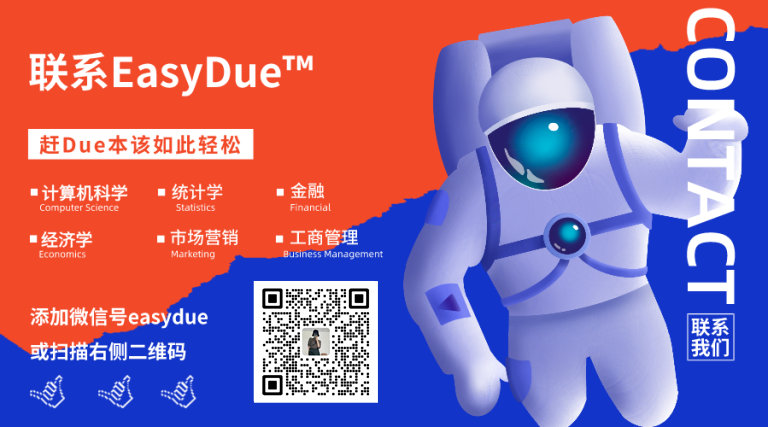 EasyDue™ 支持PayPal, AliPay, WechatPay, Taobao等各种付款方式!
E-mail: easydue@outlook.com  微信:easydue
---
EasyDue™是一个服务全球中国留学生的专业代写公司
专注提供稳定可靠的北美、澳洲、英国代写服务
专注提供CS、统计、金融、经济、数学等覆盖100+专业的作业代写服务