这是一篇关于HM市场营销分析的Marketing代写
BHO2265 Integrated marketing Communications
Unique issue 5 Constructing a creative brief. In this section rather than creating an executive summary you will build a creative brief. This document is a blueprint or guide that links the advertising strategy with the execution of the campaign (Ch.6). The brief includes normally most of the information you developed in part A plus some additional information from part B as the campaign hasn't been launched. In real life, the brief must be approved before any campaign is launched.
It is important to double check your feedback from part A before attempting to write this section. The brief also helps the team to re-focused the main purpose of the plan and see whether they are still on track.
Your brief should contain the following items taken from Ogilvy & Mather a global advertising agency (Ch.6 pp. 195-196). In this case, you should build the brief once finished your plan B as due to time constraints the message strategy was created in part B.
| | |
| --- | --- |
| What is the background to this job? | |
| What is the strategy? | |
| What is your task in the job | |
| What is the brand positioning in respect to the product line? | |
| What is H&M objective for this job? | |
| What is the target audience? | |
| What does the target audience currently think or feel about the problem? | |
| What do you want the target audience to think or  feel about the advertised product? | |
| What do you want the target audience to do? what is the main response you want to achieve with the campaign ie; brand image, purchase intent, brand loyalty? | |
| What is the message? | |
| Why should the target audience believe your message? | |
| How should you speak to the target audience | |
Unique issue 6 IMC Strategy: A description of the whole campaign and its rationale stating for example the message, tagline, main media channels (print newspapers & magazines), Broadcast (Television & Radio),  Other media vehicles (OOH & packaging) and IMC elements (Direct MKTG, SP, Sponsorships, PR, PS &Digital MKTG) to be used in the campaign.
The following topics might help you to address this section satisfactorily:
How are you planning to meet your IMC objectives? Include in your answer the message selected across the campaign and explain the tagline of the campaign.
How will the campaign link your brand to your customer?  In here you need to refer to the IMC elements for example you might like to address the following questions:  What are you going to do with your IMC elements: Which ones are you choosing and why? Mentioned them briefly.
What do you want each element to do, i.e. Advertising, Sales Promotion, Direct Marketing, Personal Selling, Online/Digital, Public Relations, Events and Sponsorship? Provide a brief description.
How will the IMC elements integrate for synergy?
Rationalise your decisions because the executive in charge needs to know why decisions were made in the planning. The executive in charge isn't interested in the process of your thoughts but what the choice was with a couple of pointers about why.
You must use the most appropriate media channels and its vehicles to meet your objectives. It will be unreasonable to choose all of them. This section needs to be brief as the following section will contain detail information about them.
Unique issue 7  Creative Strategy: Including message factors like structure-appeal and peripheral cues and source will be left for part Ch. 6
While you have determined at a very early stage the message of the campaign, in this section you have time to refine your message and explain the rationale behind the strategy.
Part 1: What is your Creative message strategy?
The major selling argument/ The big idea that will be the basis of your campaign?
Part 2: What is the message execution? TACTICS
Appeals/ Execution techniques? Tone/ Style/ Imagery?
You may include an indicative example, but you must draw on this example when discussing key points in your creative strategy.
Message Strategy
Issue 8 Media Strategy: Ch 8-13
Part 1: What IMC elements (Direct MKTG, SP, Sponsorships, PR, PS &Digital MKTG) are you going to use and why?
How will it enable you to connect with your target audience?
Part 2:  Within each IMC element what media channel are you going to use?  publications (print newspapers & magazines) / network programs Broadcast (Television & Radio, cable / internet (sites)/ sponsorships Other media vehicles (OOH & packaging)
When are you going to use each media? & how often
How often?
Unique issue 9 Media Schedule Plan:  Ch. 7 Excel Spreadsheet as provided and a description
Unique issue 10 Evaluation of Campaign: Ch.14 How will achievement of objectives be measured?
How will I know my IMC plan and objectives will be a success?
You will need to read about this in the textbook and follow the guidelines given in your tutorial when this section was discussed.
Reference list according to VU Harvard Reference Style
Appendices.
---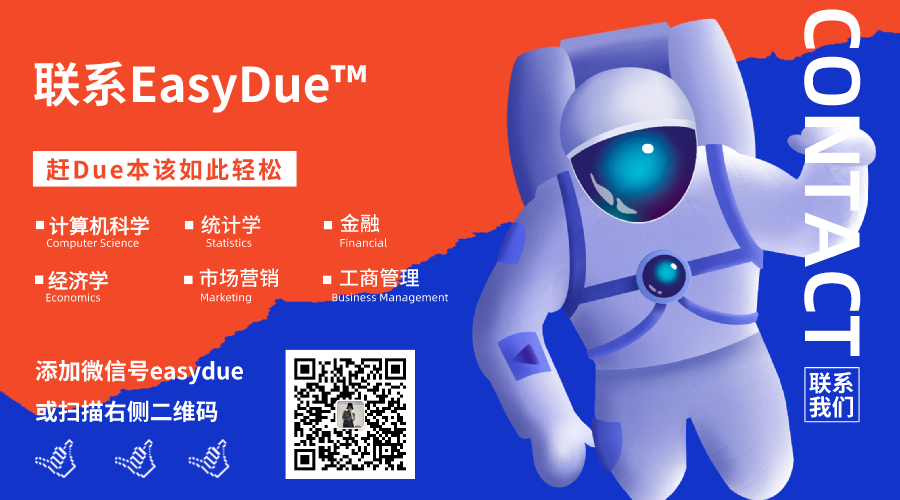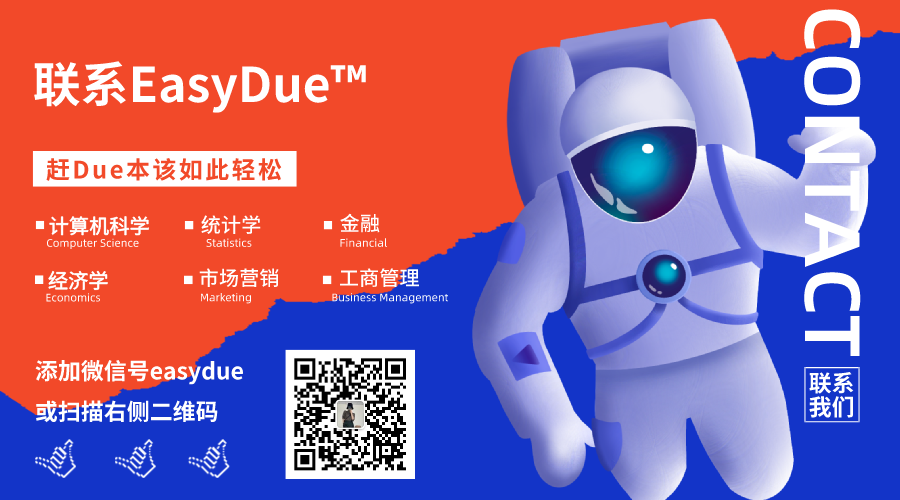 EasyDue™ 支持PayPal, AliPay, WechatPay, Taobao等各种付款方式!
E-mail: easydue@outlook.com  微信:easydue
---
EasyDue™是一个服务全球中国留学生的专业代写公司
专注提供稳定可靠的北美、澳洲、英国代写服务
专注提供CS、统计、金融、经济、数学等覆盖100+专业的作业代写服务