这是一篇来自澳洲的关于管理人员和组织的作业代写
MCP Assignment: Case Study – Trimester 3, 2022
Rosella Cosmetic Surgery (RCS) is a private plastic surgery clinic in Melbourne. RCS has employed YOU as an expert management consultant to review their company.
RCS is the first clinic opened by a new company made up of Australian investors and Korean medical experts. The clinic provides various services to a large number of clients who require different operations and come from diverse social and cultural backgrounds.
The chief medical officer and CEO of RCS is Dr Dae-Sik Kim, who is also the CEO of the Bagi Bano Medical group,which runs 26 beauty clinics in major Korean cities. This is his first experience working with foreign employees and patients. In South Korea Dr Kim is a very successful and wellrespected businessman but he is struggling to adjust to life in Australia. He is very frustrated that systems and procedures that work very well in South Korea are not working so well in Australia.
Australian patients want to be treated as unique individuals with individual needs and requirements.
They expect their plastic surgeon to provide a thorough assessment of their needs, including whether the procedure is appropriate for them and to discuss their ability to recover from the procedure. RCS has a range of competitors including private hospitals and cosmetic surgery clinics who they are competing with for market share, customers and revenue. RCS is trying to win this competition by having faster procedures, lower waiting times and lower prices.
However, in order to achieve these goals RCS surgeons do not always strive to provide advice that is right for their patients, and try to persuade patients into having a procedure and rush them into making a decision. RCS patients are discouraged from asking questions so they don't know all the facts to make an informed decision. RCS workers are expected to act in the best interests of their patients,assessing the appropriateness of the procedure that the patient wants and helping their patients to meet their desired beauty outcomes and making sure their patients understand any risks involved. But, the pressure on staff to help the clinic make a profit means that doctors and nurses do not always act in the best interests of their patients.
In South Korea, most of Dr Kim's patients were teenagers and young adults who received their surgeries as graduation presents and to make corrections to facial features to make it easier for them to get married. However, in Australia, the majority of clients with the income and interest in cosmetic surgery are middle aged. This presents a challenge for the clinic, as it is much harder to get the promised results with older skin and bodies. Dr Kim has had to adjust to the different market in Australia, where patients are mostly interested in abdominal and torso procedures rather than facial adjustments. In Australia, cosmetic surgery is not seen as an exclusive market for wealthy people but it is a service that is paid for by a range of consumers, based mostly on their needs and demands to fit in with Australia's sport and beach culture.
Dr Kim was attracted to participate in the Australian Cosmetic Surgery market because of the high prices clinics can charge here. He saw the potential to earn substantial profit and decided to cash in as well. Although Australian people know cosmetic surgery procedures can be done overseas cheaper,they are scared by all the accidents and deaths that have occurred to medical tourists in Thailand and Indonesia. RCS management are frustrated that they cannot win the war to have the lowest prices – one reason is that RCS staff are all correctly trained and registered so they are still being undercut by competitors with lower prices that do not use the best technology or follow all the rules and regulations.
Dr Kim has a good portfolio of before and after photos of patients to demonstrate his technical competence and all of the staff at RCS are trained to the highest standards to be capable of performing difficult and complicated procedures with positive outcomes. They know that plastic surgery is permanent and can be life threatening. He has brought the latest and most expensive surgical technology and equipment from Korea to help his new business venture.
RCS customers pay a lot of money for these services and are entitled to the highest quality of workers.
However, RCS managers' decisions about pay and rewards mean that workers feel like they are not provided with appropriate recognition for their efforts. The one size fits all approach that RCS uses with their patients is also used with their workers, workers who perform outstanding work do not receive the benefits they expect, and the reward and payment packages offered have no variation in terms of what workers can receive. All workers are expected to be motivated by money and cash bonuses according to the profit that the clinic makes, other rewards like additional holidays or flexible working locations are not offered.
---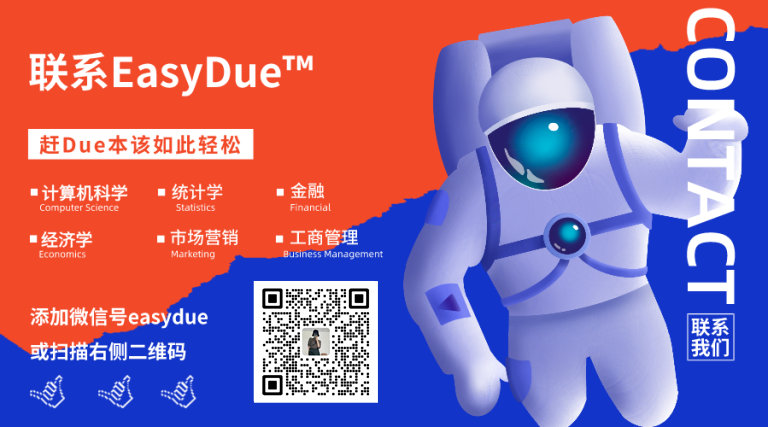 EasyDue™ 支持PayPal, AliPay, WechatPay, Taobao等各种付款方式!
E-mail: easydue@outlook.com  微信:easydue
---
EasyDue™是一个服务全球中国留学生的专业代写公司
专注提供稳定可靠的北美、澳洲、英国代写服务
专注提供CS、统计、金融、经济、数学等覆盖100+专业的作业代写服务