这是一篇来自英国的关于国际商业的作业代写,作为您的国际业务模块的一部分,您需要探索如何通过与您选择的国家进行贸易,将这个商业理念扩展到国际环境中,需要从文化、经济、法律和政治的角度来分析你想要扩张的国家的环境,并研究这些因素如何影响你的业务的全球扩张。还需要考虑法律、工业和市场趋势,以及所选国家的目标市场。
II.Individual International Business Plan Report (80%)
In your module Ideation (ELE00039M), you developed a new business idea/concept and tailored it for the UK market. Now, as part of your International Business module, you need to explore how you can expand this business idea into an international setting by trading with your chosen country (Note: This country can be any country except UK.). This will involve writing an International Business Plan.
As part of your International Business Plan, you need to analyse the environment of the country where you want to expand from a Cultural, Economic, Legal, and Political perspective and research how these factors affect the global expansion of your business. As part of that, you will need to consider the laws, industrial and market trends, and the target market in the chosen country.
Please note that you CANNOT repeat or copy-paste any exact content from the Ideation assignment.
You need to write your International Business Plan using the following structure:
Structure for International Business Plan Report
Component
Brief
Marks
Executive summary
●    A one-page summary that gives a synopsis of each
section of the global business plan, including your country
analysis, marketingplan, entry strategy, and financial plan.
10 marks
Contents list
●    Table of content of the overall report
–
Introduction
●    Describe the products and/or services your business
idea involves,

●    Who  your  intended  customers  are  (by  general  type)  your  intended market.

●    How you plan to Market them, reference to the 4Ps or
an alternative  theoretical model here would be useful.

●   Describe your company's overall financial goals and
expectations for growth.

●    Explain why you feel internationalisation is good for
your business and  what your overall vision for your business is.

●    A description of what is where in your business plan section
by section.

●    Your introduction should be no more than 2 pages in length.

10 marks
Country Analysis
●    Describe your chosen country's economic system that is important to your proposed business/product/service.

●    Describe the trading country's governmental structure and
stability and how the government controls trade and private businesses.

●   Describe the relevant laws and/or governmental agencies that affect your
business/product/service, such as labour laws, and trade laws. (You can use content here that you have created as part of your
Law module assignment.)

●    Analyse  the  geographic  and  demographic  information,  important customs and traditions, and other
pertinent cultural  information in the trading country. Discuss whether these add any competitive advantages or disadvantages to your proposed product and/or service.

15  marks
Marketing Plan

●    Who are the target customers? Describe the target market (age, income level, population estimate, other specific demographic and economic information), and customer buying behaviour related to the proposed product and/or service.

●    What  is  the  single,  clear,  compelling  message  that  states  why  your product/service is different and worth buying?

●    Your   USP   (also   called   a   unique   selling   proposition,   or   USP) describes what separates your business from your competitors.

●    How will youreach your customers (customer pathways)?

●    Describe how the product or service will be priced, promoted, and made available for purchase for the customer.

15 marks
Entry Strategy
●  Outline  the  strategy  you  have  determined  to  be  most  beneficial  in entering the foreign market.
15 marks
●  Describe your business model and justify your strategic
approach (in a country company; Joint Venture; etc.).

●  Outline the capital assets that maybe required;

●  Describe the overall product or service supply and delivery
approach explaining how its product or service will be
manufactured and supplied to its consumers; logistics; etc.

●  Discuss if there are any patents, copyrights, or other IP issues.

Financial Plan
●    A projected cash flow forecast for the first 3 years of trading

●    A  clear  statement  of capital cost requirements and how
this will be funded

●   A clear statement of the trading risks your business faces and how you will protect yourself against these risks, ensure you talk about translation and transaction risks.

15 marks
Conclusion
●    Conclude what you have made

●    Make  a  very  clear  statement  about  whether  this  project  is  a  good business proposal based on your analysis.  Proposing that your business is NOT a good idea based on solid data and analysis will NOT mean you get low marks.

10 marks
Report Layout
●    Quality of writing ( English, Grammar, and punctuation)

●    List any references used in the research work

●    Attach any supplementary evidence in the appendix

10 marks
Additional information:
Harvard referencing style must be used.
The report must be presented with dueacademic rigorin writing and structuring and editing.
All reports MUST BEword processed on white A4 paper with double spacing, using Times New Romanfont (or Arial) and font size of 12 points.
The body ofthe writtendocument must be limited to 15 numbered pages; however, no less than 12 pages are expected for this assignment. The appendix (if an appendix is attached), the title page, and the table of contents and references are not part of the body document.
Yourreportneeds to be completed by week 2 of the Summer term. A pdf of your individual report should be submitted via VLE.
You CANNOT repeatorcopy-paste any exact content from the Ideation assignment for your International business in any sections such as USP,  Marketing plan, etc. You need to adjust and analyse each section of your international business based on the new country you have chosen.
---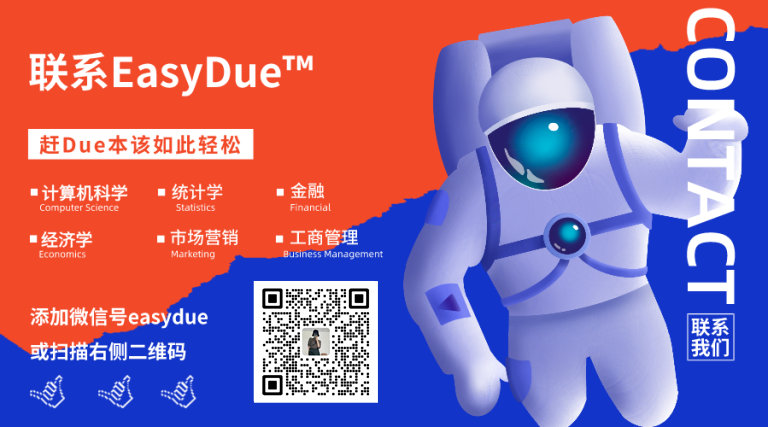 EasyDue™ 支持PayPal, AliPay, WechatPay, Taobao等各种付款方式!
E-mail: easydue@outlook.com  微信:easydue
---
EasyDue™是一个服务全球中国留学生的专业代写公司
专注提供稳定可靠的北美、澳洲、英国代写服务
专注提供CS、统计、金融、经济、数学等覆盖100+专业的作业代写服务